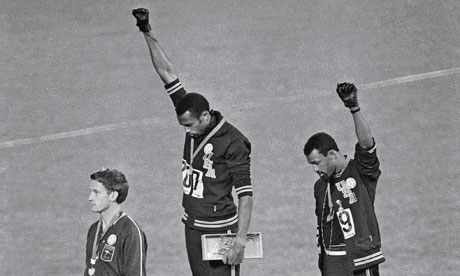 It is arguably one of the most powerful images from the Olympics, and certainly one of the most powerful photographs of the past century. In Mexico City's 1968 Summer Games, an Olympics already fraught with controversy over Civil Rights, two African-American medalists (John Carlos, Tommie Smith) and the Australian (Peter Norman) who stood with them, made a gesture that rocked the IOC, ended their athletic careers and changed the world.
The Civil Rights movement is very near and dear to my heart, as are the Olympics. The fact that pre-civil-rights era anti-miscegnation laws in the United States would have prevented my marriage to my wonderful Pacific Islander husband....since mixed race couples were considered "detrimental-to-children", "detrimental to society", "unnatural", "traitorous" and "unholy" and "against the bible" (sound familiar, folks?)...has never been lost on me.
And it is why when the Russian Federation announced today that athletes in next year's 2014 Winter Olympic Games in Sochi would be barred from advocating any gay causes, the first thing I thought of was the infamous "Black Fist". Just as there were a large number of black athletes in 1968, there are going to be a large number of gay athletes competing in Sochi.
Sure, Sochi. Good luck with that.